Comments from people that came to our shows:
Rex Mantooth
5 stars
Peter Diamond is the best up close magician I have ever seen. He and his dazzling assistant Ruby Diamond will give you the most fun evening you've had in a long time.
Chris Wilson
5 stars
I've seen quite a few magicians in Vegas and Los Angeles and this was amazing. Peter Diamond was incredibly impressive, this isn't your average magic show, these are incredible demonstrations of slight of hand like I've never seen. Highly recommended and I will bring people back.
Denise Holly
5 stars
Had a great Saturday evening date tonight at Peter Diamond's Magic Island Tampa! This intimate venue ... allowed for small talk with Peter, Ruby and other guests before, during, and after this wonderful magic show. Peter dazzled us with his close-up work during our meal (we both had Cubans that were very good) and then the stage show started at 7. John was thrilled to volunteer on a couple of tricks as you can see from the pictures posted on this page. Shows are on Friday and Saturday evenings and the place is extremely easy to get in and out of on West Kennedy so make it a point to go. You will not be disappointed!
Justin Bonnett
5 stars
Peter Diamonds magic show was awesome. He did so many tricks and I couldn't figure out how he did any of them. He absolutely blew my mind. It almost seemed real
Richard A Alexander
Dr. Peter was awesome, his up-close magic skills need to be experienced to be fully appreciated. He was a true professional and very gracious to my family.
Cindy Hansen Campos
5 stars
Peter and Ruby are entertaining and attending their magic show is a wonderful way to spend a Saturday evening!
Ken Robbins
5 stars
Amazing, funny, and always something new! Never disappointed.
Caridad Mora
5 stars
What a good show! He tied old classic magic tricks with new ones.
Juan Andrés Alzate Restrepo
5 stars
Had a great time. Awesome talent, great food, miojitos, magic. Very enjoyable evening.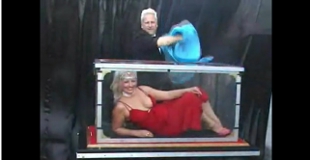 Wizard Of Ybor - The Sophisticated Comedy Magic of Dr Peter Love Diamond and Ruby We Entertain at Parties, Hospitalty Suites, Trade shows, Corporate Events, Night Clubs All Around the World. We can come to your event! Call 727-259-1276 for a free quote.
A Trick from the close-up Magic portion of the show: